What is Your SEXUAL FANTASY?
I love when a guy  reveals one of his sexual fantasies to me. It feels intimate because he is allowing himself to be vulnerable.
Talking about sharing sexual fantasies is a great way to learn what a scene partner might be interested in or how much further they might want to explore a specific sex act.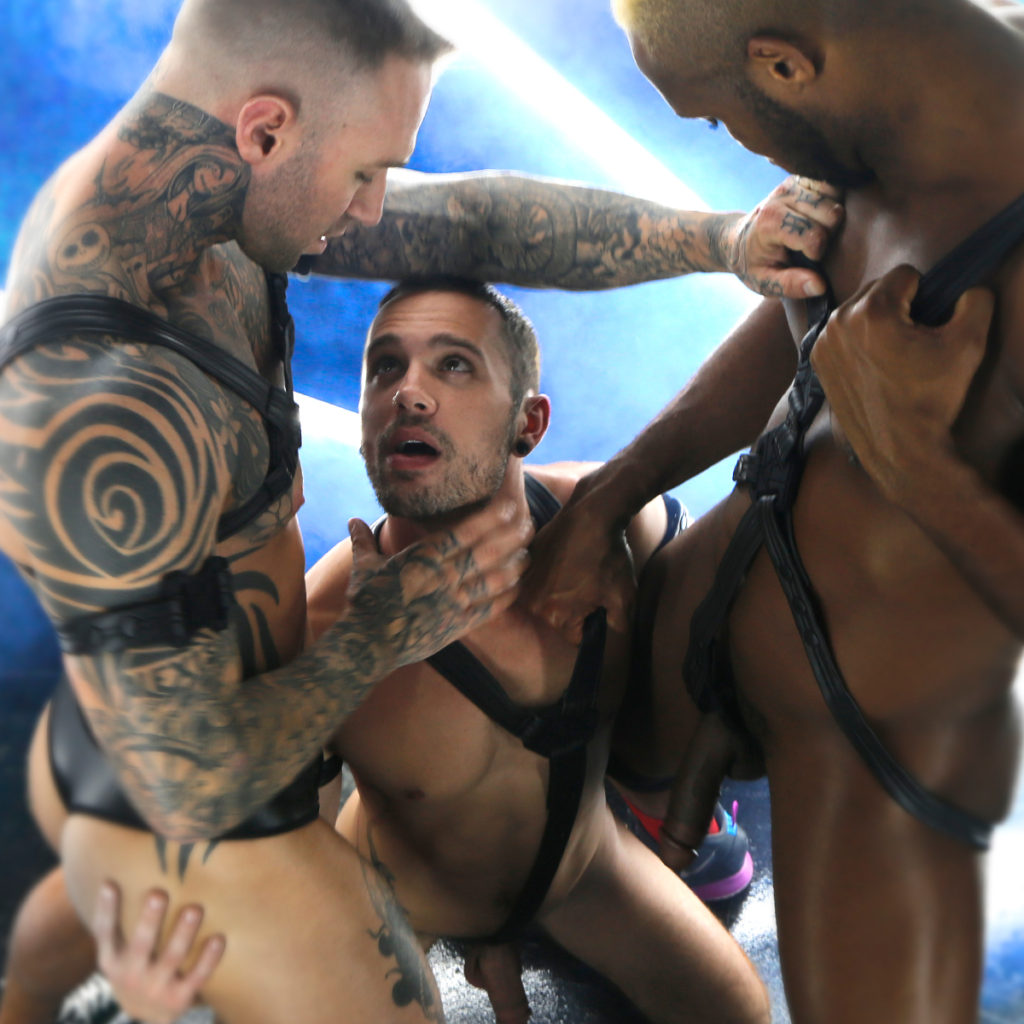 SPIT ROASTED
Before we shot this Gear Fetish scene at the Fort Troff Studio, I got everyone together to talk about what each person was comfortable with or interested in trying during the scene.
I noticed Drake Roger's eyes perk up when I mentioned the idea of him getting spit roasted by Andre Donavon and Dylan James on the Fuck Bench. I knew he was interested but it wasn't until after the shoot that I found out Drake's interest was deeper than stuffing both of his holes with Dylan and Andre's monster cocks.
Fort Troff Gear Fetish Scene Part TWO:
Featuring Lucas Entertainment Exclusives Dylan James, Andre Donovan and Drake Rogers
After The Shoot
In the post scene interview Drake says "It fulfilled a fantasy of mine".  I immediately wanted to know more about his fantasy. Once Drake had a moment to catch his breath, I asked him to tell me more about his fantasy.
Drake  said he is an avid reader of gay erotica, in particular he likes scenes that have a strong authoritarian or domination element.
He said that having two tops fucking his mouth and his hole at the same time was just like a scene from "Frat Boys' Bitch Boy" by Greg Alexander.
In the Erotic Fantasy, the bitch boy is tied to a bench utterly helpless as two frat boy tops jam their massive cocks into his holes. The two frat boys start competing with each other to see who can push the bitch boy farthest across the floor with his is thrusts. While the Frat boys compete with each other the bitch boy is their willing pawn.
Behind The Scenes Secrets
In the video you don't notice how much Drake is being moved around because we would cut and reposition Drake's helpless ass back into frame each time he got fucked too far across the floor.
I was surprised at how close Drake's fantasy was to the scene we had just filmed. Especially considering that before the shoot Drake didn't mention his fantasy of being tied to a bench while two tops push him back and forth with their cocks.
Obviously, the moral of the story here is you can make your dreams a reality you just have to be willing to accept them when they cum.
Watch Part One
See Part One of the Gear Fetish Scene here